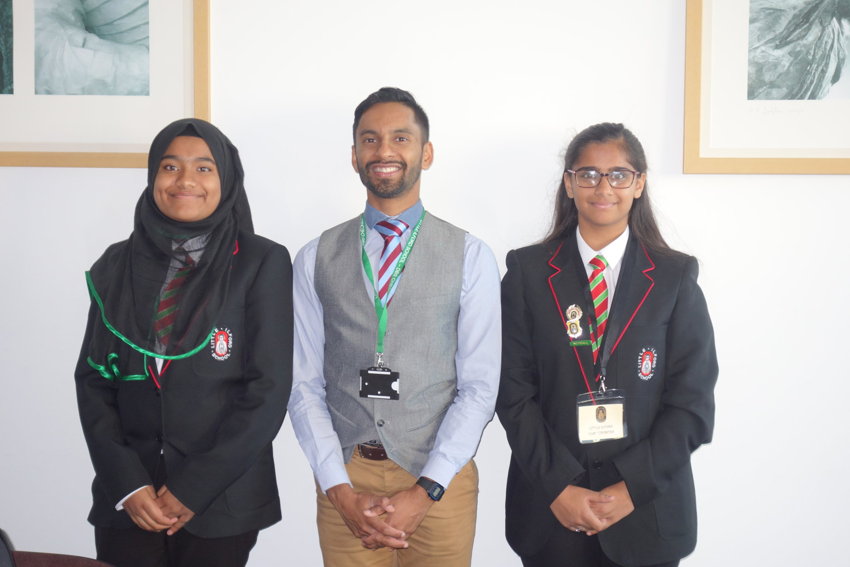 Little Ilford students are lucky enough to have Bobby Seagull teach maths at Little Ilford School every Monday, and recently two LIS cub reporters had the opportunity to interview him. In this interview we found out information that not everyone knows. Read on to find out more about the famous mathematician Bobby Seagull.
One of the main reasons we interviewed Bobby Seagull was to find out more about his experience taking part in BBC's University Challenge where he was team Captain for Emmanuel College, Cambridge. He told us it was a general knowledge quiz so it was tough preparing for it, but it was based on school subjects like history, geography, music and so on. He said he felt a little nervous taking part because millions in Britain watch the show. In his semi-final, the opposing team from Wolfson College Cambridge won, but since then he has become good friends with their captain, Eric Monkman and they have collaborated on a book, radio show and a BBC TV series together. To see their Monkman & Seagull's Genius Guide to Britain, click here.
Mr Seagull is very proud to say he is from Newham and grew up right round the corner in East Ham. His secondary school was St Bonaventure's and he gained a scholarship to do his A-Levels at Eton College where he even played football against Prince Harry, who was the year below him. He went on to study Maths at LMH, Oxford, before completing a Maths & Economics degree at Royal Holloway. He has completed his Masters in Mathematics Education at Emmanuel College, Cambridge and is now doing his Doctorate there too. (Mr Seagull loves numbers so much that he also used to be a financial markets trader at investment banks Lehman Brothers/Nomura and also qualified as a Chartered Accountant at PwC).
Bobby Seagull wanted to use his high public profile to make a difference and inspire kids and adults to become interested in maths. His second book is about his joy for maths, The Life-Changing Magic of Numbers. On 21st September, he had his first book talk and signing at ExCel. He also helped three BBC Breakfast presenters Naga Munchetty, Jayne McCubbin and Tim Muffett retake their maths GCSEs. To watch them getting their pass results, click here
Bobby Seagull visits many schools to share his enthusiasm for maths. Although maths is his favourite subject, he also enjoys history and art. In fact the famous illustrator Quentin Blake of Roald Dahl books become a friend of his years ago. For his GCSEs, he told us "I regret not taking art. I always thought it would take a really long time to do coursework projects. However if I could go back I would change that."
Mr Seagull's dad is one of his inspirations, as when he was growing up his dad would take him to East Ham library to read every Saturday. Whilst learning about Nelson Mandela in primary school, Nelson Mandela became a second inspiration, and his maths teacher, quirkily named Mr Workmaster, at St Bonaventure's was his favourite teacher.
The cub reporters managed to find out some of his family background information. His parents come from a state in southern India called Kerala. He has three brothers, one older and two younger.
Here is his favourite quote from his very own book
"People who are comfortable with numbers are likely to live happier lives because they aren't afraid of numbers"
Wow what an inspirational man, we were so lucky to meet him and interview him!
Soha, 8.8 and Mariam, 8.9