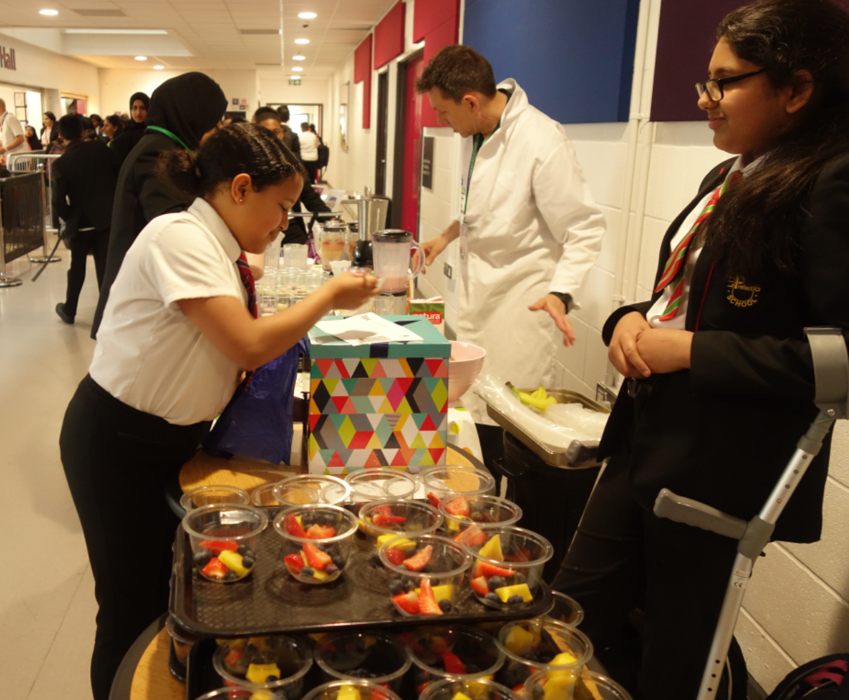 On Tuesday 25th June 2019 we held our second Healthy Highlights Day in recognition of Healthy Eating week. Peter, Sue and the catering team put on a fantastic spread of Healthy Options snacks including a selection of tasty fresh fruit pots, which went down a treat with the students. There was also a special Healthy Lunchtime menu of Vegetarian Lasagne, Jollof Rice with Chicken & Veg, Vegan Spicy Moroccan Veggie Ball Wrap and a Lemon Courgette Cake.
The New Hydration Station went down a storm, this was the first time our students had seen the water station and many were fascinated by the real fruit pieces inside.
As always the smoothie bike was extremely popular, students took turns pedalling to mix the smoothies and then were given the first glass as a reward for their efforts.
Well done to the Youth Travel and Health Ambassadors for supporting and supervising the ever popular Guess The Fruit competition, which proved to be considerably harder this time round, and for ensuring everything ran smoothly throughout.
A superb effort by all, well done and thank you to everyone who got involved.