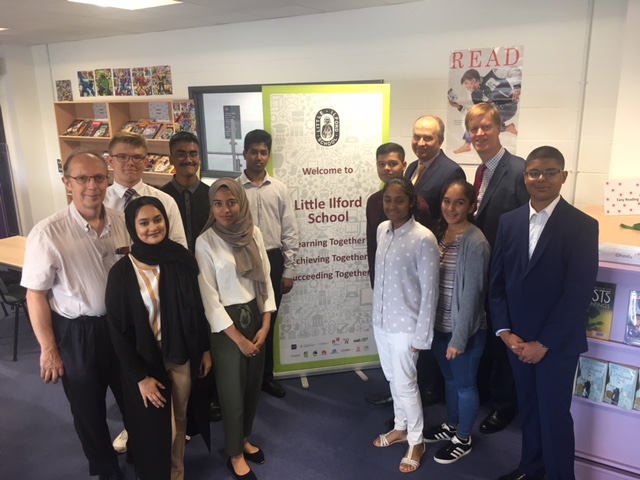 Little Ilford School is celebrating excellent results this year. Students have worked extremely hard and staff at the school are very proud of their achievements. Here are just some of the highlights.
Vijay Damodharan gained an impressive set of 7 grade 9s and 2 A*s, whilst Karthik Narayanan gained 5 grade 9s 2 grade 8s and 2 As.
Grade 9s are particularly difficult to achieve, with only 4% of students nationally being awarded the top grade which is the equivalent of an A*+.
Vijay aims to study maths, further maths, physics and chemistry at college next year. His ambition is to become theoretical physicist. Similarly, Karthik aims to become a robotic engineer and will be studying maths, further maths, physics and computing at sixth-form college. Both boys agree that the secret of their success has been to start revision early and to capitalise on revision resources provided by their teachers and examination boards.
Shannon James achieved grade 9s in maths, physics and chemistry and an A* in further maths. She is going on to study chemistry, maths, geography and Spanish for 'A' level. Her advice to future year 11 students is "work, hard; it will pay off".
The Headteacher of Little Ilford School, Ian Wilson, is "delighted" with the exemplary GCSE results of the school's high achievers and the entire Year 11 cohort who worked hard during the course of their school career. He is pleased with the school's percentage of 'Standard Passes' which have risen to 66% for students who gained grades 4 and above in both English and Mathematics, as well as the 47% of students who gained a 'Strong Pass' which is grade 5 and above, a 5% improvement on last year. This means that almost half of all students attending Little Ilford will leave having achieved the more rigorous standard in both English and mathematics. The school's attainment 8 figure has also risen to 47 and is higher than last year's national average of 45.
This is a strong result in a year when new 'O level-style examinations' have been introduced in a wider range of subjects as part of the government's drive to make examination content more rigorous and challenging. Despite all of these changes, students at Little Ilford continue to perform exceptionally well.
There have also been some impressive results in a range of subjects, including in English Literature where results rose to 78.6% 4+ and in mathematics, where results rose to 68.4% for grades 4+. In both subjects, 20% of all students gained grades 7-9, the equivalent of grade A and above.
Students were also highly successful in a range of subjects, including French where the 4+ figure rose from 74% to an impressive 89.3% and where 43% of students gained the top grades. In Triple Science, standards rose even further, seeing 98.2% of students gaining 4+, of which 54% of students achieved grades 7-9. Geography rose to 68%. In ICT, 78% of students gained A*-C grades and 80% in Media Studies.
Ian Wilson commented, "These results are testament to the hard work of our students and our staff. I am immensely proud of them."
To read an article about Little Ilford's results in the Newham Recorder, click here:
To veiw our Headline Figures click here