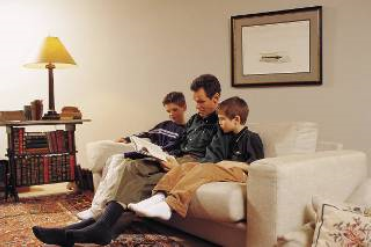 Why it's Important
Reading is vital to success in all subjects. In the English Tests and GCSE examinations, reading is assessed as a separate attainment target.
You should encourage your child to read:
Books, Magazines, Comics and Newspapers
Reading anything is better than reading nothing!
Think about how you choose books and use that knowledge and experience to guide your child. Suggest that they:
Look at the cover and read the description at the back (the blurb)
Select by author
Look at the size of the print
Ask a friend to recommend a good book
Choose a book from a series
As parents you can support your child's reading progress in many ways.
Take an interest. Talk to your child about the books they are reading – you may discover something new about them.
If your child reads to you and doesn't know a word, tell them what it is or check in a dictionary.
Buy your child a dictionary and encourage them to use it to check the meanings of new words
Join a library, not just the school library. Local libraries are always willing to help young readers and families and often have reading-related events.
https://www.newham.gov.uk/Pages/Services/Joining-a-library.aspx?l1=100003&l2=200062
https://www.towerhamlets.gov.uk/lgnl/leisure_and_culture/libraries/libraries.aspx
Once you have joined any of these libraries on line, you can start to use the online resources such as e-books immediately with your temporary registration number and password until the corona virus is over and then you can go into a local library (with the required proof of identity) to collect your membership card.
Audible is offering free audiobooks whilst the schools are closed. Click on the link https://stories.audible.com/discovery
For students
Some useful websites for research and references
https://www.infotopia.info